Something new for A Poke In The Brain - interactive, panoramic photography.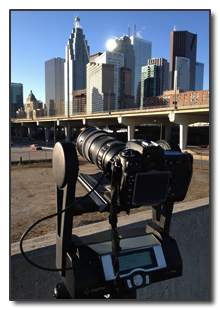 Panoramic photography started as a serious hobby of the brain trust at A Poke In The Brain. Our involvement with it goes back to the early days of Apple's QuickTimeVR technology using both film and early digital cameras. Apple eventually stopped development of the QTVR platform and creating panoramas became more difficult. With the addition of new hardware and software panoramas are much easier to create again.
Most digital photographs are measured in
megapixels
. These panoramas are in the
gigapixel
range. They can pan horizontally and vertically and can also
zoom
, allowing you to see detail from a distance.
I'll be adding more examples as I shoot them. Right now Toronto's winter has sucked the colour out of everything
The panoramas can be displayed on the web or printed at very large sizes. Images can be shot both indoors and outdoors.
These panoramas are displayed using Adobe Flash. This means that they currently cannot be displayed on an iPad or iPhone. Support for these mobile devices is coming in the future.